So…how on earth do you scale agency expertise without charging agency fees? Through a combination of content, community , and coaching:
Content
Through both the community and the knowledge center, we offer a combination of webinars, checklists, articles, frameworks, templates, curated lists, guides, masterclasses, and regular programming to help you build your knowledge daily and on demand.
Community
Our private community contains a wealth of knowledge, including the Phly team ourselves. Anyone needing immediate answers (or even just some support) can post safely to the main feed, group chat, a smaller group, or just send a private message. What happens on Phlywheel stays on Phlywheel.
Coaching
Think of Phlywheel as your agency-in-the-cloud. You aren't doing this alone. We have weekly virtual group planning jams, livestreamed AMAs, breakout sessions for masterclasses, 1-on-1 help time booking, and more. We'll ensure you get the personalized guidance you need to reach your goals.
You'll find expertise on the gamut of marketing disciplines...
We have experienced team members (20+ years) and expert consultants on call to give you the insights you need with the following:
Audience research + insights
Marketing strategy
Content marketing
Social media marketing
Digital ad planning
Search engine optimization
Brand publishing
Channel optimization
Channel optimization
Editorial planning
Writing + editing
Graphic design
Brand development
Video + multimedia
Podcast development
Influencer marketing
Community engagement + growth
Event planning
Digital transformation
Geolocal marketing
Google Analytics
Goal + KPI setting
Web development
and more…
A sample of the learning content:
Digital marketing fundamentals
This course takes you from ideation to execution: starting with research and insights into your audience, helping you build an owned/earned/paid strategy, then giving you a framework to implement (including calendars and budgets). It's not a 101, but it helps you build a fundamental strategy.
Effective influencer marketing
The world of influencer marketing has gotten more than a little dumb in the past few years, but that doesn't mean that there is no value in working with influencers! In fact, doing it right can lead to very effective outcomes. This course is all about how to do IM right.
Crafting your brand's personality
Is your brand voice lacking that certain je ne sais quoi? It's likely due to not knowing who you are and want to be. Very few brand guidelines actually dive into real personality for social platforms. This course focuses in on this very exercise.
Awesome analytics
Can't figure out how you're really doing? This masterclass is all about helping you understand the native analytics for each platform (Google Analytics, Twitter Analytics, Facebook Analytics, etc), understanding benchmarks, as well as how to set up fabulous dashboards that help you pull it all together.
Creating shareable content
What compels us to like a photo on Instagram? Or retweet someone on Twitter? In other words…what makes content shareable? This course takes you through each major platform (and many niche ones) to show you how to optimize your content for maximum engagement.
Social video mastery
Stop overproducing content for the web and start creating engaging, fun, simple videos that people will absolutely love. This masterclass isn't just about the theories and tools, though...it's about getting you confident about being in front of that camera! Yes...there will be a screentest.
Advanced research + insights
Do you know who your customers are? Like, *really* know who they are? Every good marketing strategy is based on insights. This in-depth masterclass takes you through research techniques, tools, approaches and how to turn insights into strategic gold.
S.M.A.R.T. goal setting
It's weird, but 8 out of 10 companies we've encountered over the years don't have solid goals set for their marketing programs. No wonder they feel like marketing isn't delivering! This course will make you into a goal-setting wizard that is sure to impress those skeptics in finance!
Turning your brand into a publisher
So...you've been killing it with content and want to take it to the next level? Have dreams of setting up your internal content team to run as smooth as the New York Times newsroom? This is the Masterclass of your publishing dreams.
These masterclasses and workshops are $249-499 on our shop, but are all included in some memberships.
Phlywheel vs. The Alternatives
Sure, this all sounds good…but there are lots of options out there. How does Phlywheel stack up? Lets's see what you get with with a Phlywheel membership compared with: hiring an agency, signing up for an online learning platform, hiring a freelancer or just winging it yourself?
Phlywheel
Really great if you want to build expertise in-house and DIY it

The cost of office coffee + snacks

You get to see "how the sausage is made," reducing your uncertainty

Turns you into the expert, reducing dependency on others
Agency
Really great if you couldn't be bothered to DIY it and just want to hire a team of experts

The cost of several salaries

Much of the work is done behind the scenes, so you don't know how sound the advice is

You're locked into a contract/SOW

They keep the expertise to themselves so you need to keep hiring them to help
Phlywheel
Really great if you need a full learning, resource-filled, community platform and need more than just "one-off" lessons

More than learning, Phlywheel has resources, workspaces, community, coaching and guidance

Carefully curated Masterclasses and resources, built from real-life case studies and 20 years of experience

Easy, engaging content, designed to help you learn

One-to-one coaching, answers to questions and guidance available

Oodles of resources attached to each Masterclass
Online Learning
Really great if you just need "one-off" lessons here and there

Pretty much just learning modules.

Can be an uncertainty on the soundness of the advice

Content is pretty generic (no personalization).

No guidance. Speaks often 'set and forget' courses, leaving your further questions unanswered

Rarely any downloads or tools to take with you after the lesson is over
Phlywheel
Really great if you need the full range of digital marketing expertise to grow your business

A broad range of digital marketing expertise - from research to content to metrics to optimization and beyond

Turns you into the expert, reducing dependency on others

Ability to connect with multiple freelancers and experts on the fly in the community for quick advice when you need it
Freelancer
Really great if you need a deep expert to focus on one area of your marketing

It's hard to find a freelancer who can do it all...so you often need to hire multiple, which gets expensive and chaotic

Not even the hardest working freelancers will be available 24/7 (plus, their hours add up!)

They keep the expertise to themselves so you need to keep hiring them to help

Not always easy to find the right freelancers or experts for your immediate needs
All of this said we love freelancers! Our aim is to get freelancers on the platform – bringing on specialties to do masterclasses + webinars – so if you're a freelancer with a special talent, contact us!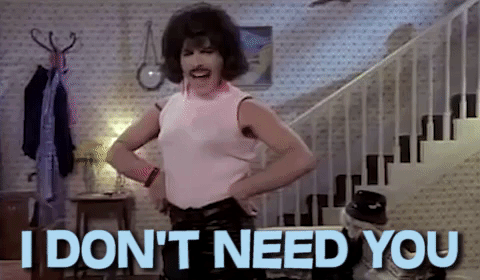 Yes. You've got this. You don't need anyone. There are hundreds of thousands of blog posts and books and white papers and infographics and videos and podcasts…well, we don't have to tell you this…
If this is working for you, GREAT! Maybe you want to join as a Catalyst to be an awesome community member (we'll have a special rate for Catalysts who contribute more than they ask for – stay tuned!).
But we know that, for many, the crazy amounts of information on the interwebs can be just as confusing (if not more) than no information at all. That is who we built Phlywheel for.
Our aim is to create the perfect combination of learning, tools, coaching, and community to create an army of empowered, confident, awesome marketers.
If that sounds like something that appeals to you, give Phlywheel a whirl:
I've been enjoying Tara's content for years, so when she posted about Phlywheel, I jumped on it. There is so much here, it's like being in her and the team's brain. Every day, I learn something new to apply to my strategy.
There's so much out-of-date or click-baity information available that it's nearly impossible to cut through the digital clutter to get to the good stuff. Happily, Phlywheel is all good stuff with current information AND community built-in.
I'm watching "Digital Marketing: Where the heck to begin" right now and HOLY HELL it's fantastic. Really great information - would have loved something like this a couple of years ago! For someone like me, it's soooooooo great!
The community aspect has been a godsend! For someone who is isolated and doesn't currently work with other marketers, it's just been great to know that there are other people to talk to and discuss things with... Phlywheel has helped me to feel less alone and, in a lot of ways, less like an imposter.
Still don't want to commit?
No worries! You can buy individual courses, digital downloads and physical planning tools as you need them:
Phlywheel's courses are built to give you the solid foundation you need to hit the ground running towards your inevitable success.
Digital tools + guides
We've created all sorts of amazing digital planning and creativity tools for ourselves and clients over the years and now they're available to YOU for a small price.
Physical planning tools
Our Planning Tools are built with marketing strategists in mind. We have collaborative planning card decks, content planners and desk blotters coming soon!