So…how on earth do you scale agency expertise without charging agency fees? Through a combination of content, community , and coaching:
Phlywheel is founded (and run) by award-winning boutique marketing firm, Truly Inc. We launched Phlywheel to serve small and mid-sized businesses in a way that is affordable and effective.
We are a small team of diverse experts and have helped businesses, big and small, including:
Message from Tara Hunt, Founder + CEO
"Phlywheel is a culmination of my life purpose:
To simplify and democratize effective marketing for small businesses and non-profits that don't have the resources to compete with giant corporations. (And, if I'm being honest, I'd love to wean small businesses off of their reliance on Facebook ads. There are so many more effective tactics!!!)
Through a combination of content, community, and curation, we aim to create a generation of empowered marketers."
Phlywheel founder, Tara Hunt, has been an influential figure in digital marketing since the early 2000's and has been called "a pioneer of online and social marketing" by Entrepreneur Magazine.
She has over 20 years of experience, wrote one of the first books on social media marketing, and is followed by over 350,000 people across various social channels:
You'll find expertise on the gamut of marketing disciplines...
We have experienced team members (20+ years) and expert consultants on call to give you the insights you need with the following:
Audience research + insights
Marketing strategy
Content marketing
Social media marketing
Digital ad planning
Search engine optimization
Brand publishing
Channel optimization
Channel optimization
Editorial planning
Writing + editing
Graphic design
Brand development
Video + multimedia
Podcast development
Influencer marketing
Community engagement + growth
Event planning
Digital transformation
Geolocal marketing
Google Analytics
Goal + KPI setting
Web development
and more…
Phlywheel vs. The Alternatives
Sure, this all sounds good…but there are lots of options out there. How does Phlywheel stack up? Lets's see what you get with with a Phlywheel membership compared with: hiring an agency, signing up for an online learning platform, hiring a freelancer or just winging it yourself?
Phlywheel
Really great if you want to build expertise in-house and DIY it

The cost of office coffee + snacks

You get to see "how the sausage is made," reducing your uncertainty

Turns you into the expert, reducing dependency on others
Agency
Really great if you couldn't be bothered to DIY it and just want to hire a team of experts

The cost of several salaries

Much of the work is done behind the scenes, so you don't know how sound the advice is

You're locked into a contract/SOW

They keep the expertise to themselves so you need to keep hiring them to help
Phlywheel
Really great if you need a full learning, resource-filled, community platform and need more than just "one-off" lessons

More than learning, Phlywheel has resources, workspaces, community, coaching and guidance

Carefully curated Masterclasses and resources, built from real-life case studies and 20 years of experience

Easy, engaging content, designed to help you learn

One-to-one coaching, answers to questions and guidance available

Oodles of resources attached to each Masterclass
Online Learning
Really great if you just need "one-off" lessons here and there

Pretty much just learning modules.

Can be an uncertainty on the soundness of the advice

Content is pretty generic (no personalization).

No guidance. Speaks often 'set and forget' courses, leaving your further questions unanswered

Rarely any downloads or tools to take with you after the lesson is over
Phlywheel
Really great if you need the full range of digital marketing expertise to grow your business

A broad range of digital marketing expertise - from research to content to metrics to optimization and beyond

Turns you into the expert, reducing dependency on others

Ability to connect with multiple freelancers and experts on the fly in the community for quick advice when you need it
Freelancer
Really great if you need a deep expert to focus on one area of your marketing

It's hard to find a freelancer who can do it all...so you often need to hire multiple, which gets expensive and chaotic

Not even the hardest working freelancers will be available 24/7 (plus, their hours add up!)

They keep the expertise to themselves so you need to keep hiring them to help

Not always easy to find the right freelancers or experts for your immediate needs
All of this said we love freelancers! Our aim is to get freelancers on the platform – bringing on specialties to do masterclasses + webinars – so if you're a freelancer with a special talent, contact us!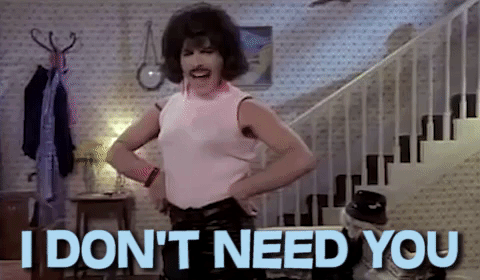 Yes. You've got this. You don't need anyone. There are hundreds of thousands of blog posts and books and white papers and infographics and videos and podcasts…well, we don't have to tell you this…
If this is working for you, GREAT! Maybe you want to join as a Catalyst to be an awesome community member (we'll have a special rate for Catalysts who contribute more than they ask for – stay tuned!).
But we know that, for many, the crazy amounts of information on the interwebs can be just as confusing (if not more) than no information at all. That is who we built Phlywheel for.
Our aim is to create the perfect combination of learning, tools, coaching, and community to create an army of empowered, confident, awesome marketers.
If that sounds like something that appeals to you, give Phlywheel a whirl:
Phlywheel's Knowledge Center is like Willy Wonka's Chocolate Factory for a strategist!

The main reason we came to Phlywheel is miles behind us. Phlywheel has helped us much more than expected.
There's so much out-of-date or click-baity information available that it's nearly impossible to cut through the digital clutter to get to the good stuff. Happily, Phlywheel is all good stuff with current information AND community built-in.
I'm watching "Digital Marketing: Where the heck to begin" right now and HOLY HELL it's fantastic. Really great information - would have loved something like this a couple of years ago! For someone like me, it's soooooooo great!
The community aspect has been a godsend! For someone who is isolated and doesn't currently work with other marketers, it's just been great to know that there are other people to talk to and discuss things with... Phlywheel has helped me to feel less alone and, in a lot of ways, less like an imposter.
The detail and production value on their videos is incredible (far better than a lot of what's out there) and the knowledge center is expansive.

Instead of the usual, regurgitated marketing tips, you'll be learning the fundamentals rooted in effective research and really understanding your audience....
I live on a steady diet of marketing advice and education. No book, podcast, webinar, or Medium post can replace the next-level empowerment I'm getting as a member of Phlywheel. This is it.

This is the missing ingredient I've been looking for, and I'm so grateful to be a part of it.
Good community and truly incredible resources. The knowledge center covered questions I was beginning to ask. Even as an experienced marketer, having this wealth of resources (community & product) is truly a help. I love how available the Phlywheel team has been and how much they care about the community.